---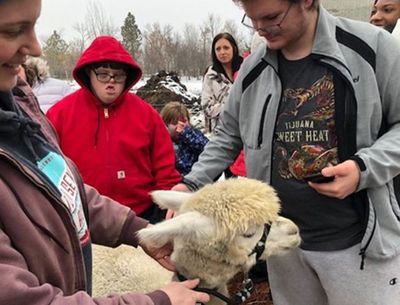 Dawn Bolstad & Rene'e Schwandt brought their students from Fargo North to Ten Seven Acres. Students spent time with alpacas, horses, chickens & ducks. Students learned about farming practices and the background of each barnyard friend.
Great teachers help students become great. Research shows that an inspiring teacher is the most important school related factor influencing student achievement. The Foundation awards competitive grants to Fargo Public Schools staff for innovative educational and literacy projects not funded by district, state, or federal monies. Grants are awarded to give educators a chance to pilot a new idea or to supplement something they are already doing in the classroom.
These grants are made possible through the following established endowment funds and annual contributions from the greater community.
Fargo Central High Alumni Fund
Diederich Family Fund
Bank of the West
Ella May Reames Fund
Gateway Chevrolet Fund
Gordmans
Harold and Dorothy Madson Fund
Jeannie Madson Fund
Vern Bennett Service Award
---
 If you would like to support innovative education, literacy or music grants you can donate online by selecting any of the links below or utilize the below printable donation form. We are deeply grateful for your support and the impact your donation will make! 
---
October 2020 Innovative Education Grants
The Foundation awarded 5 grants in October 2020 totaling $8,196.00. Proposals that ranked the highest exhibited innovative teaching and learning techniques, supported the Districts Strategic Initiative 1 and 2, and directly engaged students with both short and long-term impacts.
| School | Project Title | Grant Author | Description | Grant Amount | Funding Source |
| --- | --- | --- | --- | --- | --- |
| Davies High School | Feel the Music | Darcy Brandenburg, Adaptive Music/Band | This grant will provide a Theremin, music lights, and tactile musical instruments that will allow special learners additional ways to connect to the power of music. | $2,100.00 | Music and Arts Endowment |
| Eagles Elementary | Equity and Inclusion in Classroom Libraries | Kimmy Milligan, Dean of Students | This grant will help ensure that classroom libraries meet the diverse needs of students at Eagles Elementary. | $1,500.00 | Annual Innovative Education Donations |
| Ed Clapp Elementary | Thinking Skills Groups: Addressing Inequity in Gifted Programming | Susan Clark, Gifted Services | This project supports an on-going effort to develop and implement an alternative route to identification of primary students for gifted services. The goal of these efforts is to identify students who are traditionally under-identified and underrepresented in gifted programming. Funding of this project will provide thinking games and puzzles and other teaching materials for use in small group thinking skills lessons. | $472.00 | Fargo Central Alumni Endowment |
| Jefferson Elementary | Jefferson Elementary STEAM Lab | Paula Nelson, Library Media Specialist | This grant will support a STEAM Lab. STEAM Lab is a space where activities are focused on the 21st Century Skills of collaboration, creativity, communication and critical thinking. STEAM Lab will be offered for students as part of their classroom instruction, as enrichment, or as part of a club atmosphere. | $2,333.00 | STEM Endowment |
| South High School | Improv Podcasting | Kevin Kennedy, Fargo South Drama Director | A grant to support an alternative means to perform, utilizing podcasts for short form improv pieces with the Fargo South troupe and other troupes in the District. These pieces would be comedy podcasts of anywhere from 5-30 minutes long. | $1,791.00 | Music and Arts Endowment |
---
February 2020 Innovative Education Grants
The Foundation awarded 11 grants in February 2020 totaling $8,734.00.  Grants funded were educational projects that exhibited innovative teaching and learning techniques, were clear in their educational purpose, and directly engaged students with both short-term and long-term impact.
| School | Project Title | Grant Author | Description | Grant Amount | Funding Source |
| --- | --- | --- | --- | --- | --- |
| Clara Barton Elementary | Every Day Speech | Hala Qarini, Special Education | Every Day Speech is a Social Learning Platform that has the help of three Speech-Language Pathologists, a video and animation team, and a web development team. The result is a comprehensive, video-based social skills curriculum. | $300.00 | Diederich Family Fund Endowment |
| Davies High School | Introduction to Education Praxis Exam | Lana Feeley, CTE-FACS Teacher | The Praxis® tests measure the academic skills and subject-specific content knowledge needed for teaching. Students enrolled in the Introduction to Education Class will be offered this exam. This grant will help defray the costs to students. | $500.00 | Fargo Central Alumni Endowment |
| District-Wide | Summer Middle School Code Ninjas | Erin Kaluza, SPS MS Summer Admin Intern | During summer school for middle schoolers Code Ninjas will have students group into teams to become game developers for the day. During this instructor led game building session they will create their very own video game. Students will learn fundamental coding elements needed to go into building games themselves. | $2,400.00 | STEM Endowment |
| District-Wide | Elementary Enrichment Summer School Scholarships | Rebecca Folden, Summer School Director | Providing Scholarships for Enrichment Summer School. Enrichment Summer School provides opportunities to any elementary student interested in taking additional classes. There are a wide variety of courses to pick from ranging from arts, languages, science, math, language arts, STEAM, etc. | $600.00 | Language, Arts, and Social Studies Endowment |
| Ed Clapp Elementary School | Fostering Creativity, Collaboration and Calm with a Community LEGO Wall | Susan Clark, Gifted Services Teacher | Using new and repurposed materials a portable LEGO wall will be constructed to serve as a multi-purpose learning tool available to all students. Use of the community LEGO wall will assist in meeting goals in the areas of math and science instruction, collaboration and creativity as part of STEAM experiences, and social-emotional regulation. | $472.00 | Innovative Education Endowment |
| Kennedy Elementary School | Day of Compassion | Heather Mitzel, Counselor | Day of Compassion engages students to participate in many activities centered around respect, empathy, and compassion with high-school students. Throughout the day, students engage in team building exercises, experiential learning activities, games, and presentations. | $1,800.00 | Innovative Education Endowment |
| Lewis & Clark Elementary School | Ukulele Grant for the Music Classrooms | Fate Schuster, Music Educator | This grant will introduce upper elementary music students on how to play the ukulele. The instruments will be utilized to teach proficiency in sight of reading and performance, which are both standards in the music curriculum. Ukuleles are diverse instruments that students are enthusiastic to play that can be used to express and discover themselves through music. | $496.00 | Music and Arts Endowment |
| North High School | Physical Science Phenomena | Eric Arness, Science Educator | Provides supplies to create Bottle Racers. Students will build, test, and refine their cars to increase performance. This will engage students in the hands on engineering process and through their trials they will gather data relating to the physic topics for calculations. | $500.00 | STEM Endowment |
| North High School | A Calm Classroom | Brooke Kupcho, ILC Teacher | Provides lighting to help students control their emotions and frustrations throughout the school day. Using warm lighting rather than overhead fluorescent lights has been proven to reduce stress and assist people in remaining calm. | $58.00 | Innovative Education Endowment |
| North High School | Experiential Learning: Land and Sea | Dawn Bolstad, Special ED-MI Teacher | Providing experiential learning opportunities for Special Education students. They will be traveling to Doubting Thomas Farms, to allow students to share the farm to table experience first-hand. They will also travel to see the Marine Lab at Minnesota State University-Moorhead, to experience up-front access to marine life an unimaginable chance for most of these students. | $408.00 | Private Anonymous Donor |
| South High School | People Really Appreciate Nice Kids (PRANK) | Vanessa Boehm, Counselor | Annually the senior calss at South High provides a day of activity doing service and field days with elementary students and having them celebrate the importance of graduation. It involves Ed Clapp, Eagles, Jefferson, Lincoln, Lewis & Clark, and Clara Barton/Hawthorne Elementary Schools. | $1,200.00 | Fargo Central Alumni Endowment |
---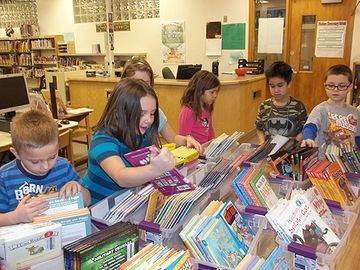 Eleanor Laing Law Fund grant used to create traveling library collections that move between classrooms at Madison Elementary..
The Eleanor Laing Law Endowed Fund supports innovative literacy and library projects in the Fargo Public Schools. 
Eleanor was a 1930 graduate of Fargo Central High School and was  employed by the Fargo Public School District in 1937 as an English and Journalism teacher at Agassiz Junior High School.  She entered the military during World War II and eventually settled in San Diego with her husband, Charles Law.
2020-2021 Eleanor Laing Law Literacy Grants
| School | Project Title | Grant Author | Description | Grant Amount |
| --- | --- | --- | --- | --- |
| Eagles Elementary | Browsing with Ease | Jennifer Hess, Library Media Specialist | This project will help students easily find books in the library. This will increase their reading, encourage a love of books and develop independence in the library. It will also help students meet library standards and promote a culture of reading within Eagles Elementary. | $5,330.00 |
| Eagles Elementary | Literacy Footprints~First Grade | Erica Johnson, Grade One Teacher | Providing Literacy Footprints for first grade students at Eagles Elementary. Literacy Footprints is a Guided Reading system designed for classroom teachers, intervention, ELL, Special Education teachers, and support staff who are teaching children to read and write. | $4,400.00 |
| Fargo South High School | Healing Trauma Through Expressive Therapies | Leah Juelke, ELL-Language Arts Teacher | This project provides resources for Fargo South High School refugee and immigrant students so they may express themselves and teach others through their narrative stories, poems and artwork. | $7,207.00 |
---
2019-2020 Eleanor Laing Law Literacy Grants
| School | Project Title | Grant Author | Description | Grant Amount |
| --- | --- | --- | --- | --- |
| All Elementary Schools | Matthew Cordell Author Visit | Amy Soma, District Library Administrator | Supported a visit from award winning author and Illustrator Matthew Cordell to all the elementary schools in FPS. Matthew Cordell is the Caldecott Medal winning author and illustrator of Wolf and the Snow, and the illustrator of numerous highly acclaimed children's books including The Only Fish in the Sea and Special Delivery (both by Caldecott Medal winning author, Philip C. Stead), First Grade Dropout and Second Grade Holdout (both by Audrey Vernick), The Knowing Book, Bob Not Bob, If the S in Moose Comes Loose, Rock 'n' Roll Soul, and the wildly popular Justin Case series. Matt is also the author and illustrator of many celebrated picture books including Another Brother, Wish, Dream, and Hello! Hello! | $12,500.00 |
| Discovery Middle School | 6th Grade Literature Circles and Vocabulary | Laura Kowatch & Shella Schneider, Language Arts Teachers | An introduction of new and engaging titles for literature circles to give students "voice in choice" at Discovery in 6th grade English Language Arts. Literature circles support 21st Century Skills, support student achievement and growth, and engage students in reading. A collection of new titles is requested to help support student inquiry and engagement. | $961.00 |
| Ed Clapp Elementary | Shared Inquiry: Interpretation, Justification and Understanding in Language Arts Enrichment | Susan Clark, Gifted Services | Providing materials to embed the shared inquiry method of learning into Ed Clapp Elementary gifted services language arts program. | $1,656.00 |
| Longfellow Elementary | Footprints for Literacy | Regan Teslaw, 1st Grade Teacher | Guided Reading books with lesson guides that support our teachers' new professional development. Goal is to provide research based small group literacy lessons to all students at Longfellow. | $4,575.00 |
| Fargo South High School | Healing Trauma Through Expressive Therapies While Spreading Cultural Awareness | Leah Julke, ELL- Language Arts | Fargo South High School refugee and immigrant students express themselves and teach others through their narrative stories, poems and artwork. | $7,207.00 |
| Washington Elementary | Mini iPads for Setting C | Peggy Simonson, Special Ed Teacher | Supporting four iPad Minis with cases to use for literacy instruction in our setting C classroom. | $1,400.00 |
---
Mary Ellen Thompson Music Fund
The Mary Ellen Thompson Music Fund was established by her daughters Jackie, Liz and Daphne to honor their mothers love for music. "Our Mother had a deep understanding of the stresses experienced by elementary music educators and believed strongly in music education at that level, knowing what that could mean for children's futures. She believed music made children better listeners, better learners, and allowed them to express themselves creatively through their personal expression and joy of music."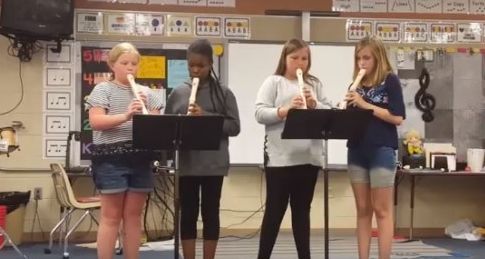 2020-21 Mary Ellen Thompson Music Grants
| School | Project Title | Grant Author | Description | Grant Amount |
| --- | --- | --- | --- | --- |
| Centennial Elementary | Ukulele Ensemble | Katherine Knapp, Elementary Music Specialist | Students in 5th grade will have the opportunity to learn to play an instrument that is not typical for the elementary classroom. In learning to play the ukulele, students will develop music reading skills that can transfer into middle and high school music programs. | $1,398.00 |
| Eagles Elementary | Ukulele Fun! | Krista Salzer, Elementary Music Specialist | This grant is written to purchase a class set of ukuleles' for 4th and 5th grade students to use in music class. | $1,500.00 |
| Eagles Elementary | Equity and Inclusion, Music & Podcasts | Kimmy Milligan, Dean of Students | This grant will incorporate cultural music in PE class, promoting unity and diversity. | $800.00 |
| Lewis & Clark Elementary | Ukulele Addition | Gretchen Byer, Elementary Music Specialist | This grant will add an additional 7 ukuleles so each music classroom at Lewis & Clark will have 12 ukuleles. This will allow more opportunities for students to play the instruments. | $399.00 |
---
2019-20 Mary Ellen Thompson Music Fund Grants
| School | Project Title | Grant Author | Description | Grant Amount |
| --- | --- | --- | --- | --- |
| All Elementary Schools | Cello-bration Day | Leah Ruef, Music/Orchestra | Cello-bration Day is a one-day event to bring together students of all ages who play the cello. This event is open to all cellists ranging from 5th grade through 12th grade. Students who participate in Cello-bration Day will rehearse with local professional cellists along with guest cellist Dr. Tulio Rondon from the University of Wisconsin – Eau Claire. | $1,000.00 |
| Kennedy Elementary | Ukelele Project | Pamela J. Gafkjen, Music Teacher | Kennedy Elementary will be launching the Ukulele Project with 5th grade students as a teaching unit and integration throughout the school year. Instruction would occur in the music classroom and expand to outside performances and collaboration with other musical ensembles. | $900.00 |
| Roosevelt Elementary | Piano Lab Project | LeeAnn Kramlich, Music Teacher | The Piano Lab project will take place in the general music classrooms. This project will begin with grades 3-5. Students will develop skills on the piano while incorporating their music reading and writing skills. Piano skills are beneficial for all musicians. The project will include group piano lessons, practice time and private instruction. | $1,500.00 |