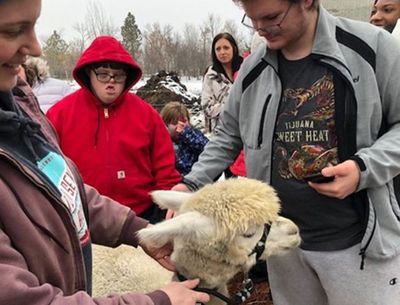 Dawn Bolstad & Rene'e Schwandt brought their students from Fargo North to Ten Seven Acres. Students spent time with alpacas, horses, chickens & ducks. Students learned about farming practices and the background of each barnyard friend.
Great teachers help students become great. Research shows that an inspiring teacher is the most important school related factor influencing student achievement. The Foundation awards competitive grants to Fargo Public Schools staff for innovative educational and literacy projects not funded by district, state, or federal monies. Grants are awarded to give educators a chance to pilot a new idea or to supplement something they are already doing in the classroom.
These grants are made possible through the following established endowment funds and annual contributions from the greater community.
Eleanor Laing Law Endowment
Fargo Central High Alumni Fund
Mary Ellen Thompson Music Fund
Diederich Family Fund
Bank of the West
Ella May Reames Fund
Gateway Chevrolet Fund
Gordmans
Harold and Dorothy Madson Fund
Jeannie Madson Fund
Vern Bennett Service Award
Activity and Extracurricular Endowment
Language, Arts, and Social Studies Endowment
Music and Arts Endowment
STEM (Science, Technology, Engineering, and Math) Endowment
---
October 2019 Innovative Education Grants
The Foundation awarded 17 grants in October 2019 totaling $13,315.00.  Grants funded were educational projects that exhibited innovative teaching and learning techniques, were clear in their educational purpose, and directly engaged students with both short-term and long-term impact. 
| School | Project Title | Grant Author | Description | Grant Amount | Funding Source |
| --- | --- | --- | --- | --- | --- |
| Agassiz Educational Day Program | Alcoholism Prevention: Prime for Life- Workbooks | Jessica Anderson, EDP Social Worker | Prime for Life is an evidence-based, therapeutic education program. It specifically addresses the needs of high-risk drinking and drug-using audiences. Each participant in Prime for Life receives their own workbook, for notetaking, self-reflection, and ultimately developing their own personal safety formula. | $225.00 | Fargo Central Alumni Endowment |
| Agassiz Even Start Program | Celebrating Diversity | Beth Grosz & Natasha Haugen, Even Start Teachers | This celebrating diversity project is designed to expand cultural relevance in a preschool setting. Our goal is to enrich our classrooms play experience by having a healthy balance of cultural relevant toys and materials. | $469.00 | Innovative Education Endowment |
| Agassiz Building | Project Clean & Confident | Jennie Rude, Counselor | The Source is a clothing and food pantry for Woodrow, EDP, ECSE and district-wide Student Wellness Family Facilitators. Students from all over the district use The Source to get food and clothing. We could better serve these families if donations could be washed, sorted and organized. This grant will provide a washer and dryer to help accomplish this. | $2,000.00 | Critical Needs Funds |
| Bennett Elementary | Thinking Outside the Box with 3-D Printing | Julia Warner, Gifted Services Teacher | This project's goal is to leverage the power of technology in order to increase rigor, challenge, complexity, problem-solving, and 21st Century learning skills with the students at Bennett Elementary. | $1,000.00 | STEM Endowment |
| Clara Barton Elementary | Calming Baskets | Steffanie Jorgenson, Counselor | Calming baskets are used by students who need various sensory input to assist them with stress, anger or any feeling that could impede their focus at school. Each student in Clara Barton and Hawthorne is taught how to use these tools in an appropriate and helpful manner. | $250.00 | Fargo Central Alumni Endowment |
| Fargo Davies High School | Building Communities through Drum Circles | Darcy Brandenburg, Music Teacher | This grant will help provide an adaptive music class experience learning with the interactive and collaborative experience of drum circles. | $750.00 | Music and Arts Endowment |
| All Elementary Schools | Hear for the Kids: Podcast | Carly Gaddie, SWFF; Cassie Larson, School Counselor | A podcast dedicated to social emotional learning designed to educate and empower families of elementary students district wide. Through the podcast, parents/students/staff will be provided information related to parenting, mental health, relationships, and support in the community. | $700.00 | Diederich Family Fund Endowment |
| All Elementary Schools | Talk on the Playground- An Inclusive Initiative | Whitney Mead, Speech Pathologist Alyce Wiemken, AT Consultant | An inclusive school has the responsibility to promote social-emotional learning for ALL students. Some students use forms of communication other than traditional speech. This grant will create communication signs for some of our elementary playgrounds that would foster social engagement and experiences for ALL students. | $400.00 | Fargo Central Alumni Endowment |
| District-Wide | Reducing Barriers to School Attendance | Amy Riccio, Student Wellness Facilitator | By reducing barriers to student attendance, students will be ready to learn and engage in school. Student Wellness Family Facilitators (SWFF) work directly with at risk K-12 students throughout the district. By providing basic needs to students struggling with attendance, barriers can be removed which would improve attendance and ensure the highest possible student achievement in both academic and behavioral areas. | $500.00 | Critical Needs Funds |
| Fargo South High School | Individualized Learning Center Light Therapy | Trisha Miller, ILC Teacher | Provide therapy lights in the ILC classroom at South High to heighten focus and energy as many at-risk students deal with SAD (seasonal affect disorder). | $240.00 | Innovative Education Endowment |
| Washington Elementary | STEAM Bins | Rebekah Olson, Kindergarten Teacher | Kindergarten students will use STEAM bins to explore and create with hands-on materials as well as learn to collaborate and problem solve by sharing the materials while working with other students. | $381.00 | STEM Endowment |
| Woodrow Wilson High School | Young Adult Book Club | Rebecca Pittenger, Library Media Specialist | Students of Woodrow Wilson Alternative High School will be invited to join a young adult book club. Books relating to high school social problems will be given priority. Books that help mentor high school students in social skills will also be chosen in hopes of reducing at-risk behavior. | $500.00 | Language, Arts, and Social Studies Endowment |
---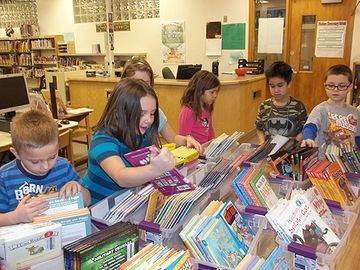 Eleanor Laing Law Fund grant used to create traveling library collections that move between classrooms at Madison Elementary..
The Eleanor Laing Law Endowed Fund supports innovative literacy and library projects in the Fargo Public Schools. 
Eleanor was a 1930 graduate of Fargo Central High School and was  employed by the Fargo Public School District in 1937 as an English and Journalism teacher at Agassiz Junior High School.  She entered the military during World War II and eventually settled in San Diego with her husband, Charles Law.
2019-2020 Eleanor Laing Law Literacy Grants
| School | Project Title | Grant Author | Description | Grant Amount |
| --- | --- | --- | --- | --- |
| All Elementary Schools | Matthew Cordell Author Visit | Amy Soma, District Library Administrator | Supported a visit from award winning author and Illustrator Matthew Cordell to all the elementary schools in FPS. Matthew Cordell is the Caldecott Medal winning author and illustrator of Wolf and the Snow, and the illustrator of numerous highly acclaimed children's books including The Only Fish in the Sea and Special Delivery (both by Caldecott Medal winning author, Philip C. Stead), First Grade Dropout and Second Grade Holdout (both by Audrey Vernick), The Knowing Book, Bob Not Bob, If the S in Moose Comes Loose, Rock 'n' Roll Soul, and the wildly popular Justin Case series. Matt is also the author and illustrator of many celebrated picture books including Another Brother, Wish, Dream, and Hello! Hello! | $12,500.00 |
| Discovery Middle School | 6th Grade Literature Circles and Vocabulary | Laura Kowatch & Shella Schneider, Language Arts Teachers | An introduction of new and engaging titles for literature circles to give students "voice in choice" at Discovery in 6th grade English Language Arts. Literature circles support 21st Century Skills, support student achievement and growth, and engage students in reading. A collection of new titles is requested to help support student inquiry and engagement. | $961.00 |
| Ed Clapp Elementary | Shared Inquiry: Interpretation, Justification and Understanding in Language Arts Enrichment | Susan Clark, Gifted Services | Providing materials to embed the shared inquiry method of learning into Ed Clapp Elementary gifted services language arts program. | $1,656.00 |
| Longfellow Elementary | Footprints for Literacy | Regan Teslaw, 1st Grade Teacher | Guided Reading books with lesson guides that support our teachers' new professional development. Goal is to provide research based small group literacy lessons to all students at Longfellow. | $4,575.00 |
| Fargo South High School | Healing Trauma Through Expressive Therapies While Spreading Cultural Awareness | Leah Julke, ELL- Language Arts | Fargo South High School refugee and immigrant students express themselves and teach others through their narrative stories, poems and artwork. | $7,207.00 |
| Washington Elementary | Mini iPads for Setting C | Peggy Simonson, Special Ed Teacher | Supporting four iPad Minis with cases to use for literacy instruction in our setting C classroom. | $1,400.00 |
---
2019-20 Mary Ellen Thompson Music Funds
The Mary Ellen Thompson Music Fund was established by her daughters Jackie, Liz and Daphne to honor their mothers love for music. "Our Mother had a deep understanding of the stresses experienced by elementary music educators and believed strongly in music education at that level, knowing what that could mean for children's futures. She believed music made children better listeners, better learners, and allowed them to express themselves creatively through their personal expression and joy of music."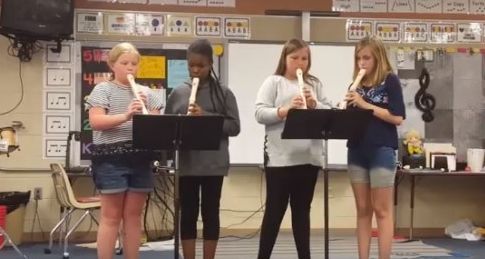 | School | Project Title | Grant Author | Description | Grant Amount |
| --- | --- | --- | --- | --- |
| All Elementary Schools | Cello-bration Day | Leah Ruef, Music/Orchestra | Cello-bration Day is a one-day event to bring together students of all ages who play the cello. This event is open to all cellists ranging from 5th grade through 12th grade. Students who participate in Cello-bration Day will rehearse with local professional cellists along with guest cellist Dr. Tulio Rondon from the University of Wisconsin – Eau Claire. | $1,000.00 |
| Kennedy Elementary | Ukelele Project | Pamela J. Gafkjen, Music Teacher | Kennedy Elementary will be launching the Ukulele Project with 5th grade students as a teaching unit and integration throughout the school year. Instruction would occur in the music classroom and expand to outside performances and collaboration with other musical ensembles. | $900.00 |
| Roosevelt Elementary | Piano Lab Project | LeeAnn Kramlich, Music Teacher | The Piano Lab project will take place in the general music classrooms. This project will begin with grades 3-5. Students will develop skills on the piano while incorporating their music reading and writing skills. Piano skills are beneficial for all musicians. The project will include group piano lessons, practice time and private instruction. | $1,500.00 |