---
Great teachers help students become great. Research shows that an inspiring teacher is the most important school related factor influencing student achievement. The Foundation awards competitive grants to Fargo Public Schools staff for innovative educational and literacy projects not funded by district, state, or federal monies. Grants are awarded to give educators a chance to pilot a new idea or to supplement something they are already doing in the classroom.
These grants are made possible through the following established endowment funds and annual contributions from the greater community.
Fargo Central High Alumni Fund
Diederich Family Fund
Bank of the West
Ella May Reames Fund
Gateway Chevrolet Fund
Gordmans
Harold and Dorothy Madson Fund
Jeannie Madson Fund
Vern Bennett Service Award
---
 If you would like to support innovative education, literacy or music grants you can donate online by selecting any of the links below or utilize the below printable donation form. We are deeply grateful for your support and the impact your donation will make! 
Click Here for Printable Donation Form
February 2022 Innovative Education Grants
The February 2022 Innovative Education grant-round has been completed through the Fargo Public Schools Foundation. The Foundation is a non-profit, 501(c)(3) organization whose vision is to provide Fargo Public Schools students with enriched and enhanced learning opportunities. Funding for grants comes from annual donations and investment income from established endowments.
Eight grants were awarded totaling $8,672.00. Proposals that ranked the highest exhibited innovative teaching and learning techniques, supports the Districts Strategic Initiative 1 and 2, and engages students with both short and long-term impacts.
---
| School & Author | Project Title | Description | Grant Amount | Funding Source |
| --- | --- | --- | --- | --- |
| Clara Barton Elementary, Mark Starkweather | FIRST® LEGO® League Exploration Programs | Funds provided to support a LEGO® League Exploration Program for grade 3-5. FIRST® LEGO® League guides youth through STEM learning and exploration at an early age. | $1,250.00 | STEM Endowment |
| District-Wide, Darcy Brandenburg | Music Library Update | Funds provided to update the high school music libraires across the district. | $2,425.00 | Music and Arts Endowment |
| District-Wide, Lori Nappe | Elementary Enrichment Summer School Scholarships | Provides scholarships for elementary student interested in taking additional summer school classes. Courses span across the STEAM curriculum (Science, Technology, Engineering, Art, and Math). | $600.00 | Critical Needs Program |
| All High Schools, Bambi Lambert | Finding Me and My Ability | Students with hearing loss at the high school level will have an opportunity to develop 21st century pre-employment transferrable skills at Deaf Nation, a traveling expo that is held in Minneapolis. | $1,000.00 | Special Education Endowment |
| Eagles Elementary, Reiko Barnett | Building Literacy through Play | Grant to provide materials to develop a literary rich play space for children. Allowing free play during the school day will engage problem-solving skills which contributes to their ability to comprehend and read for meaning. | $1,500.00 | Ella May Reams Endowment |
| Eagles Elementary, Katie Olson | 21st Century Skills Tubs | This grant will provide hands on STEAM learning materials to engage first grade students in communication, collaboration, problem solving, and fine motor skills. | $350.00 | STEM Endowment |
| Ed Clapp Elementary, Susan Clark | Dashing Forward: Skill Development through Coding | Funds from this grant will be used to invest in codable Dash robots. Dash technology will introduce and engage underrepresented groups to the world of coding. | $995.00 | STEM Endowment |
| South High School, Vanessa Boehm | Work Smarts – Career Readiness | This pilot project supports the purchase of the Works Smarts Assessment for incoming Freshman at Fargo South. Work Smarts explores students' strengths and preferences, helping them make more informed career exploration and choices. | $552.00 | Harold and Dorothy Madson Fund |
---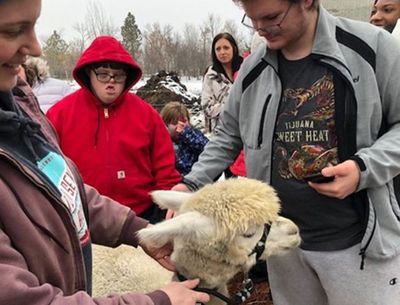 Dawn Bolstad & Rene'e Schwandt brought their students from Fargo North to Ten Seven Acres. Students spent time with alpacas, horses, chickens & ducks. Students learned about farming practices and the background of each barnyard friend.
---
October 2021 Innovative Education
| School | Project Title | Grant Author | Description | Grant Amount | Funding Source |
| --- | --- | --- | --- | --- | --- |
| Agassiz- Even Start Program | Props for Tots | Beth Grosz, Even Start Family Literacy Teacher | The Props for Tots project will focus specifically on children's books and the importance of props and visuals to supplement and enrich the storytelling process in the Even Start classroom's. | $341.00 | Language Arts & Social Studies Endowment |
| All Elementary Schools | Mentoring with Deaf Adults | Brittney Hamilton, Teacher of Deaf | This mentorship program is for students who are Deaf and hard of hearing and whose primary or secondary mode of communication is American Sign language. Student's will be mentored by adults who are Deaf and hard of hearing in the community. | $500.00 | Central Alumni Endowment |
| Clara Barton Elementary | Winter Outdoor Fitness: Snowshoeing | Alison Larson, 5th Grade Teacher | Providing snowshoes for 5th graders for their annual outdoor winter activity. | $2,500.00 | Activity & Extracurricular Endowment |
| Davies High School | The Intonation Project | Darcy Brandenburg, Music & Band Teacher | The Intonation Project will use technology to help students understand how to play instruments with each other more precisely. Students' will use intonation devices that that display the number of wavelengths in each sound wave, enabling students to match those around them. | $2,301.00 | Mary Ellen Thompson Music Fund |
| Fargo Public Schools | Beds for Success | Brittney Engelhard, ECSE Social Worker | Helps purchase mattresses and bed frames for students. This ensures students are well-rested thus increasing the likelihood of them being able to pay attention and be more productive during the school day. | $1,750.00 | Critical Needs Program |
| Washington Elementary | STEAM Bins | Abby Rogish, Kindergarten Teacher | Grant to purchase supplies STEAM Bins. STEAM Bins are an ideal hands-on solution for transitions in the classroom and they are also a creative and developmentally appropriate form of engineering for elementary students. | $250.00 | STEM Endowment |
---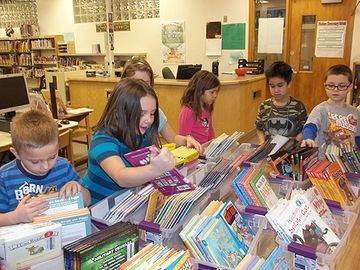 Eleanor Laing Law Fund grant used to create traveling library collections that move between classrooms at Madison Elementary..
The Eleanor Laing Law Endowed Fund supports innovative literacy and library projects in the Fargo Public Schools. 
Eleanor was a 1930 graduate of Fargo Central High School and was  employed by the Fargo Public School District in 1937 as an English and Journalism teacher at Agassiz Junior High School.  She entered the military during World War II and eventually settled in San Diego with her husband, Charles Law.
2021-2022 Eleanor Laing Law Literacy Grants
| School | Project Title | Grant Author | Description | Grant Amount |
| --- | --- | --- | --- | --- |
| Clara Barton/Hawthorn Elementary | Literacy Footprints- Second & Fourth Grade Kits | Mya Heston, Teacher (Student Performance Strategist) | Providing Literacy Footprints Kits for 2nd and 4th grade students at CBH. Literacy Footprints is a Guided Reading system designed for classroom teachers, intervention, ELL, Special Education teachers, and support staff who are teaching children to read and write. | $4,779.00 |
| All Elementary Schools | Reflecting Diversity Through Literature | Brenda Cain, Library Media Specialist | Supporting a visit from award winning author Derrick Barnes at all the elementary schools in Fargo Public Schools. | $17,500.00 |
| Eagles Elementary | Eagles Book Vending Machine | Jennifer Hess, Library Media Specialist | The Eagles Book Vending Machine will be used as an incentive for students to encourage reading, social-emotional learning, and support a positive and safe school culture. | $4,690.00 |
---
2020-2021 Eleanor Laing Law Literacy Grants
| School | Project Title | Grant Author | Description | Grant Amount |
| --- | --- | --- | --- | --- |
| Eagles Elementary | Browsing with Ease | Jennifer Hess, Library Media Specialist | This project will help students easily find books in the library. This will increase their reading, encourage a love of books and develop independence in the library. It will also help students meet library standards and promote a culture of reading within Eagles Elementary. | $5,330.00 |
| Eagles Elementary | Literacy Footprints~First Grade | Erica Johnson, Grade One Teacher | Providing Literacy Footprints for first grade students at Eagles Elementary. Literacy Footprints is a Guided Reading system designed for classroom teachers, intervention, ELL, Special Education teachers, and support staff who are teaching children to read and write. | $4,400.00 |
| Fargo South High School | Healing Trauma Through Expressive Therapies | Leah Juelke, ELL-Language Arts Teacher | This project provides resources for Fargo South High School refugee and immigrant students so they may express themselves and teach others through their narrative stories, poems and artwork. | $7,207.00 |
---
Mary Ellen Thompson Music Fund
The Mary Ellen Thompson Music Fund was established by her daughters Jackie, Liz and Daphne to honor their mothers love for music. "Our Mother had a deep understanding of the stresses experienced by elementary music educators and believed strongly in music education at that level, knowing what that could mean for children's futures. She believed music made children better listeners, better learners, and allowed them to express themselves creatively through their personal expression and joy of music."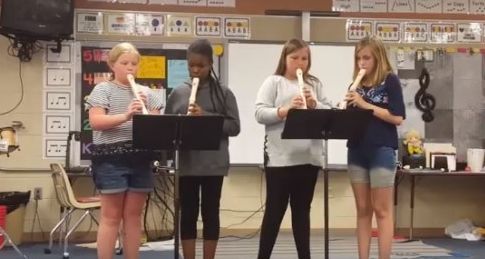 ---
2021-22 Mary Ellen Thompson Music Fund Grants
| School | Project Title | Grant Author | Description | Grant Amount |
| --- | --- | --- | --- | --- |
| Bennett Elementary | Ukuleles for the Music Classroom | Anna Goodin-Hayes, Elementary Music Teacher | Grant to build a ukulele program at Bennett Elementary as part of the general music curriculum for third, fourth, and fifth grade students. | $1,445.00 |
| Eagles Elementary | Specdrums in the Music Room | Abby Rickert, Elementary Music Teacher | Grant to purchase a classroom set of Specdrums. Specdrums allow students to track notes while singing a song. | $1,519.00 |
| Explorer Academy | Mobile Drum Set Platform | Peggy Simonson, Specialist (Music, Library, Art) Teacher | Grant to purchase a cart to be able to move a trap drum set from classroom to classroom. The goal for this project will be for students to experience music in the classroom and learn to use the drums as a tool to help themselves stay regulated. | $232.00 |
---
2020-21 Mary Ellen Thompson Music Fund Grants
| School | Project Title | Grant Author | Description | Grant Amount |
| --- | --- | --- | --- | --- |
| Centennial Elementary | Ukulele Ensemble | Katherine Knapp, Elementary Music Specialist | Students in 5th grade will have the opportunity to learn to play an instrument that is not typical for the elementary classroom. In learning to play the ukulele, students will develop music reading skills that can transfer into middle and high school music programs. | $1,398.00 |
| Eagles Elementary | Ukulele Fun! | Krista Salzer, Elementary Music Specialist | This grant is written to purchase a class set of ukuleles' for 4th and 5th grade students to use in music class. | $1,500.00 |
| Eagles Elementary | Equity and Inclusion, Music & Podcasts | Kimmy Milligan, Dean of Students | This grant will incorporate cultural music in PE class, promoting unity and diversity. | $800.00 |
| Lewis & Clark Elementary | Ukulele Addition | Gretchen Byer, Elementary Music Specialist | This grant will add an additional 7 ukuleles so each music classroom at Lewis & Clark will have 12 ukuleles. This will allow more opportunities for students to play the instruments. | $399.00 |